Currently, this very popular FPGA board is required as the base unit for the MiSTer system. Numerous daughter boards can be added to run most of the available MiSTer cores.  Is the DE10-Nano the only FPGA device that will run the MiSTer system?  Eventually a more "ready" board could be made that doesn't require so many add-ons and tentacles hanging from it, but for now this is the best solution.
Purchase a DE10-Nano from Digi-Key Now
The DE10-Nano Development Kit presents a robust hardware design platform built around the Intel System-on-Chip (SoC) FPGA, which combines the latest dual-core Cortex-A9 embedded cores with industry-leading programmable logic for ultimate design flexibility. Users can now leverage the power of tremendous re-configurability paired with a high-performance, low-power processor system. Altera's SoC integrates an ARM-based hard processor system (HPS) consisting of processor, peripherals and memory interfaces tied seamlessly with the FPGA fabric using a high-bandwidth interconnect backbone. The DE10-Nano development board is equipped with high-speed DDR3 memory, analog to digital capabilities, Ethernet networking, and much more that promise many exciting applications.
The DE10-Nano Development Kit contains all the tools needed to use the board in conjunction with a computer that runs the Microsoft Windows XP or later.
The DE10-Nano board has many features that allow users to implement a wide range of designed circuits, from simple circuits to various multimedia projects.
The following hardware is provided on the board:
FPGA Device
Intel Cyclone® V SE 5CSEBA6U23I7NDK device (110K LEs)
Serial configuration device – EPCS64 (revision B2 or later)
USB-Blaster II onboard for programming; JTAG Mode
HDMI TX, compatible with DVI 1.0 and HDCP v1.4
2 push-buttons
4 slide switches
8 green user LEDs
Three 50MHz clock sources from the clock generator
Two 40-pin expansion headers
One Arduino expansion header (Uno R3 compatibility), can be connected with Arduino shields
One 10-pin Analog input expansion header (shared with Arduino Analog input)
A/D converter, 4-pin SPI interface with FPGA
* If the specification of memory device in Quick Start Guide and official website is discordant, refer to DE10-Nano website as the sole stardard.
HPS (Hard Processor System)
800MHz Dual-core ARM Cortex-A9 processor
1GB DDR3 SDRAM (32-bit data bus)
1 Gigabit Ethernet PHY with RJ45 connector
USB OTG Port, USB Micro-AB connector
Micro SD card socket
Accelerometer (I2C interface + interrupt)
UART to USB, USB Mini-B connector
Warm reset button and cold reset button
One user button and one user LED
LTC 2×7 expansion header
Block Diagram of the DE10-Nano Board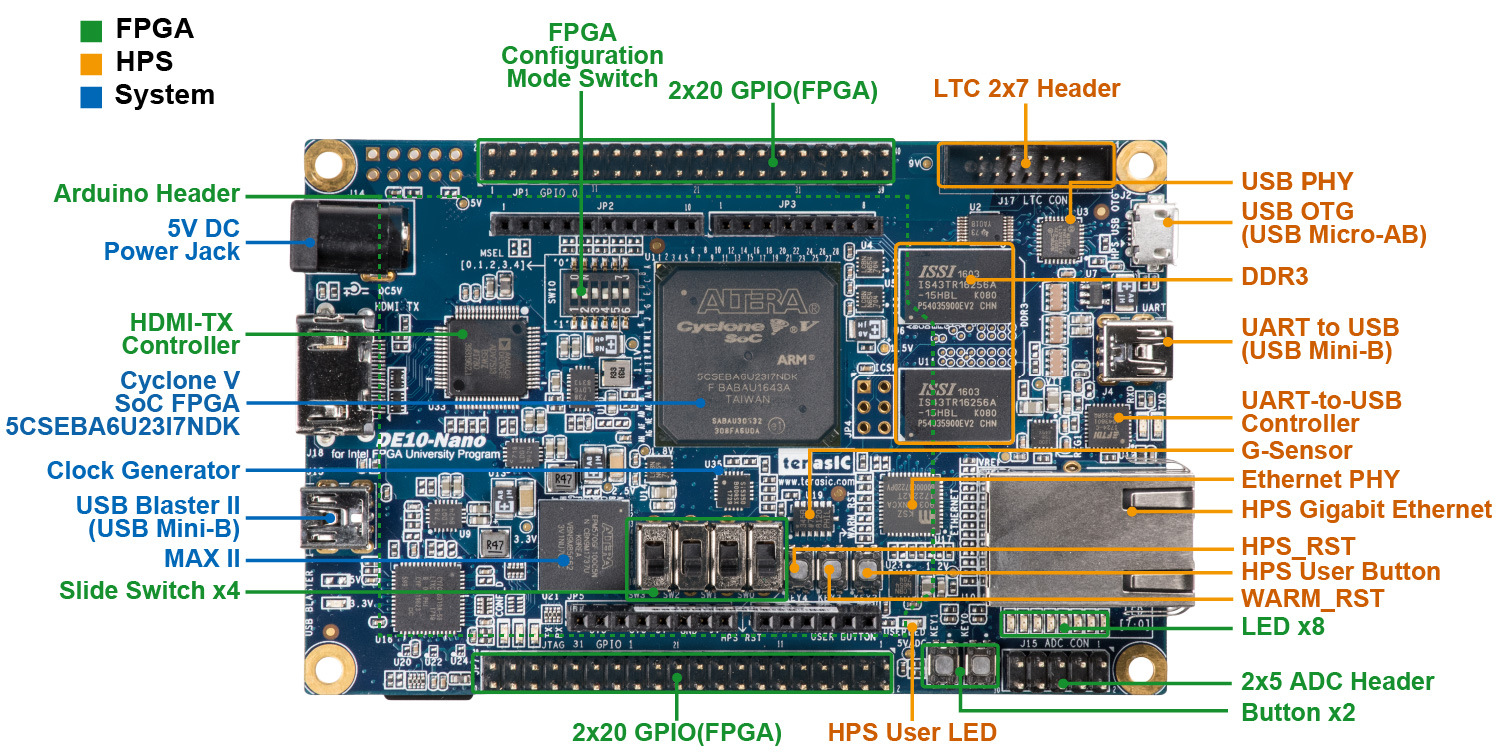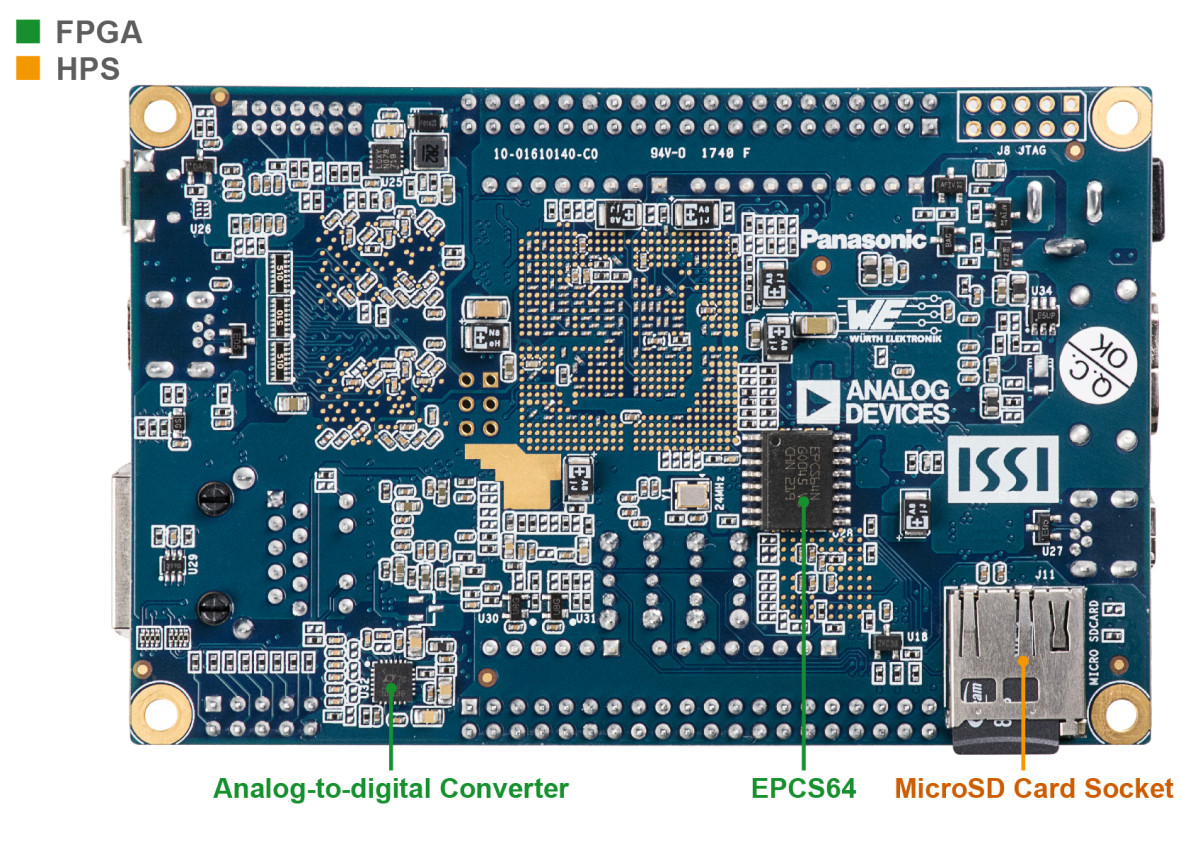 DE10-Nano Board Mechanical Layout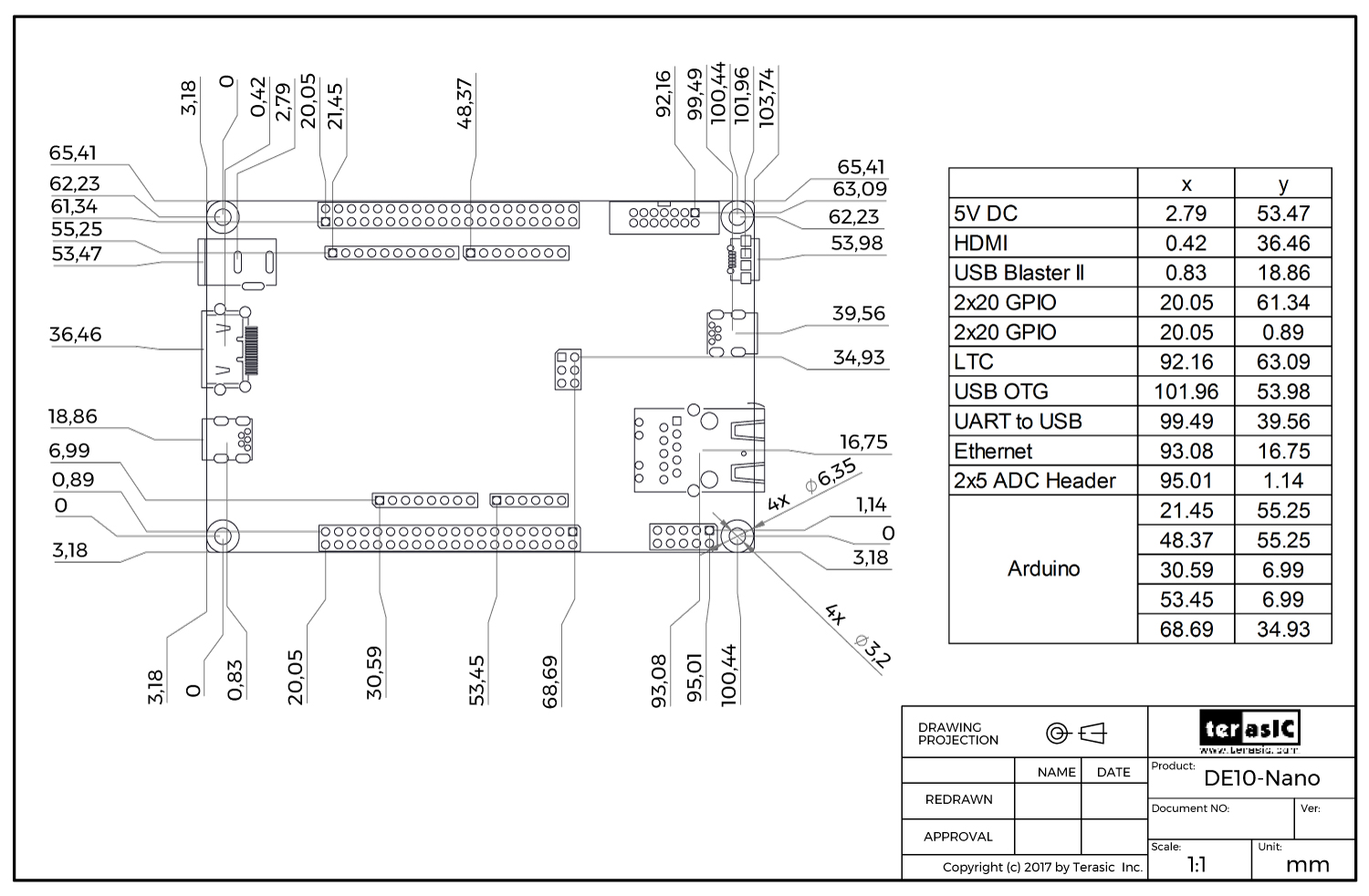 | Board Feature | x-axis (mm) | y-axis (mm) |
| --- | --- | --- |
| 5V DC | 2.79 | 53.47 |
| HDMI | 0.42 | 36.46 |
| USB Blaster II | 0.83 | 18.86 |
| 2×20 GPIO | 20.05 | 61.34 |
| 2×20 GPIO | 20.05 | 0.89 |
| LTC | 92.16 | 63.09 |
| USB OTG | 101.96 | 53.98 |
| UART to USB | 99.49 | 39.56 |
| Ethernet | 93.08 | 16.75 |
| 2×5 ADC Header | 95.01 | 1.14 |
| Arduino* Header | 21.45 | 55.25 |
| Arduino* Header | 48.37 | 55.25 |
| Arduino* Header | 30.59 | 6.99 |
| Arduino* Header | 53.45 | 6.99 |
| Arduino* Header | 68.69 | 34.93 |
Connectivity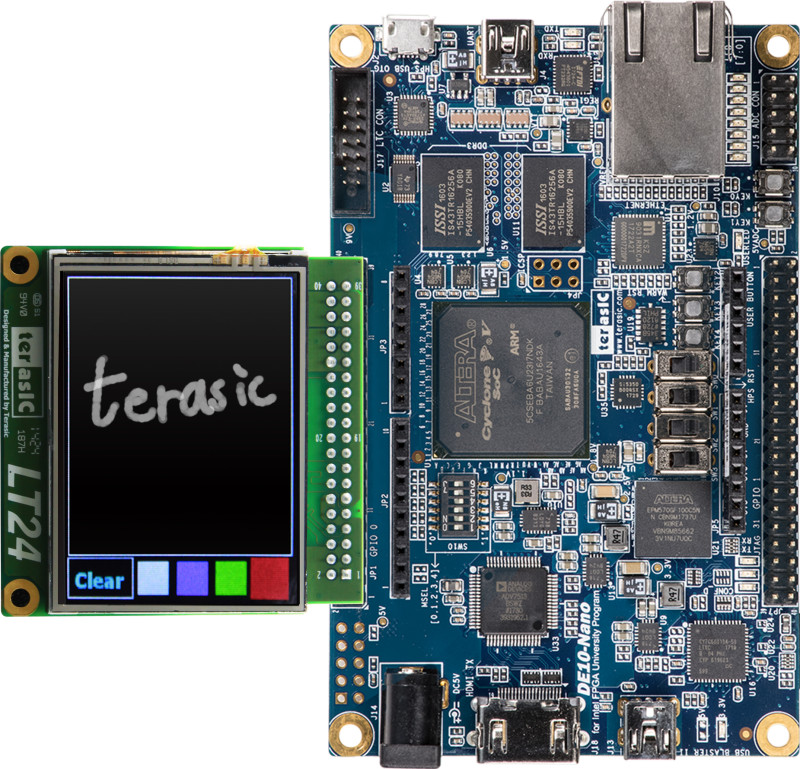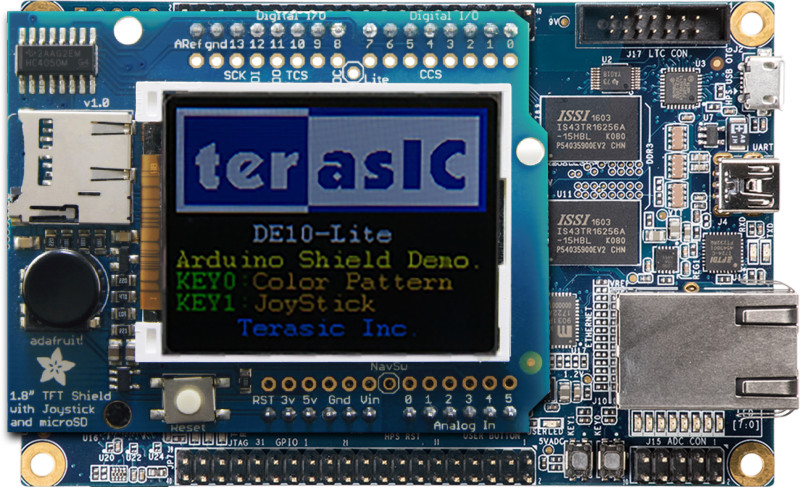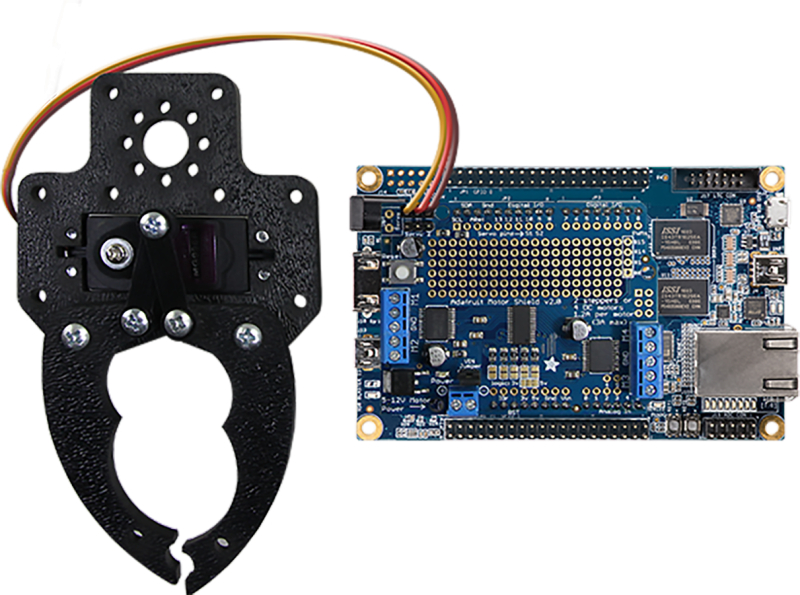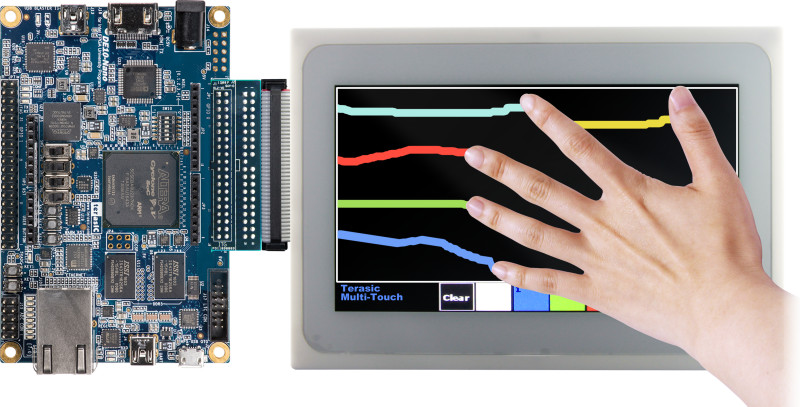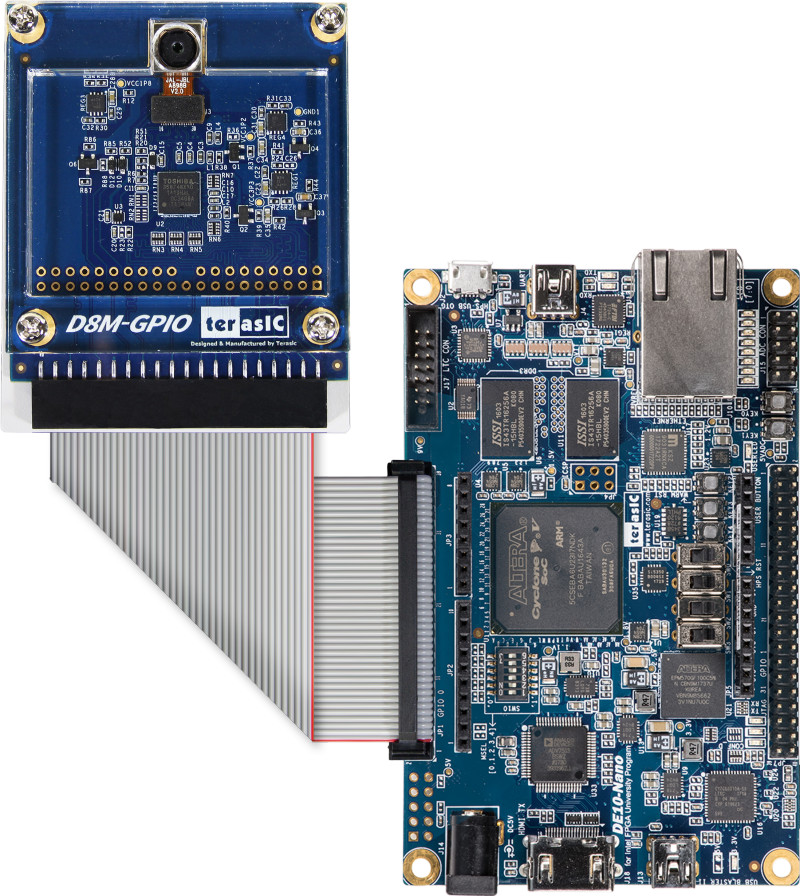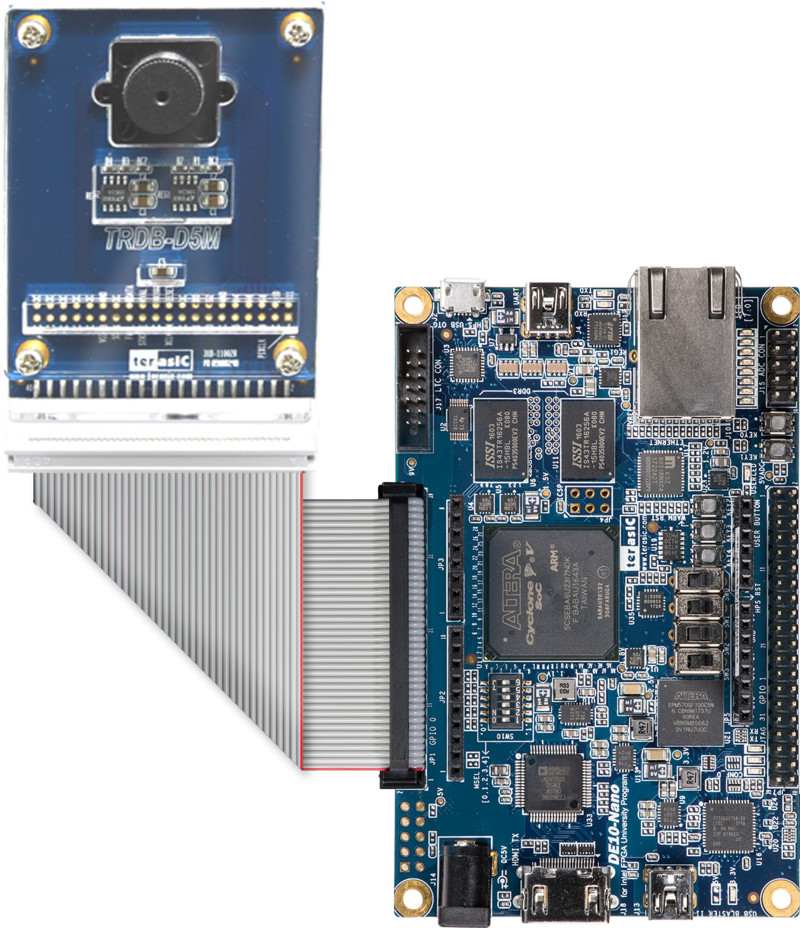 Connect LTC2607 (AD/DA Daugher Card)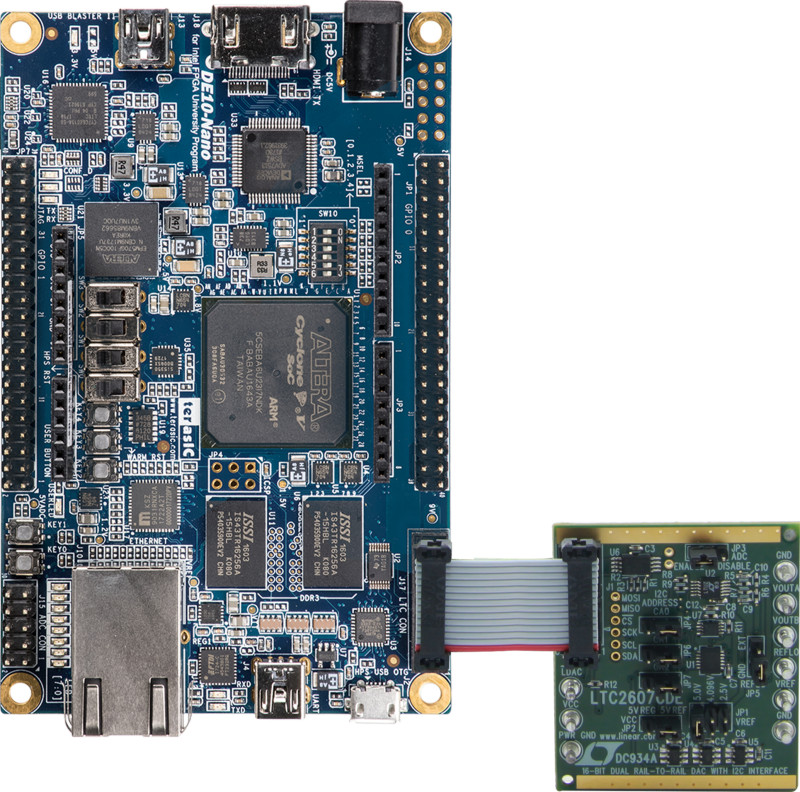 Documents
| Title | Version | Size(KB) | Date Added | Download |
| --- | --- | --- | --- | --- |
| DE10-Nano User Manual (rev. B2/C Hardware) | 2.1 | 7535 | 2018-11-15 | |
| How to distinguish the board revision and what's differents. (rev. A/B/B2/C Hardware) | | 139 | 2018-04-02 | |
| DE10-Nano User Manual (rev. A/B Hardware) | 1.8 | 8953 | 2018-02-01 | |
| Quick Start Guide(rev. A/B Hardware) | | 10727 | 2017-11-02 | |
| Quick Start Guide(rev. B2/C Hardware) | | 1574 | 2017-11-01 | |
| DE10-Nano Product Brief | | 2851 | 2017-08-05 | |
| Getting Started Guide | | 3417 | 2017-08-04 | |
| My First FPGA | | 3812 | 2017-08-01 | |
| My First HPS | | 1234 | 2017-07-31 | |
| DE10-Nano Control Panel | | 18361 | 2017-07-30 | |
| DE10-Nano OpenCV | | 2291 | 2017-07-29 | |
| Bluetooth SPP | | 1948 | 2017-07-28 | |
| DE10-Nano Schematic | | 1421 | 2017-07-27 | |
CD-ROM
| Title | Version | Size(KB) | Date Added | Download |
| --- | --- | --- | --- | --- |
| DE10-Nano CD-ROM (rev. C Hardware) | 1.3.4 | | 2019-01-09 | |
| DE10-Nano CD-ROM (rev. A/B Hardware) | 1.2.4 | | 2018-02-01 | |
| DE10-Nano CD-ROM (rev. B2 Hardware) | 1.2.5 | | 2018-02-01 | |
| Network Socket Example Design | 1.0.0 | | 2017-10-30 | |
| Quartus Download | 16.0 | | 2016-12-22 | |
Daughtger Card Demonstrations
| Title | Version | Size(KB) | Date Added | Download |
| --- | --- | --- | --- | --- |
| D8M | | | 2018-01-26 | |
| RFS | 1.0.0 | | 2017-06-22 | |
| SMK | | | 2017-02-24 | |
| Arduino Shield | | | 2017-02-23 | |
| LT24 | | | 2017-02-23 | |
| MTL2 | | | 2017-02-23 | |
Linux BSP (Board Support Package): MicroSD Card Image
| Title | Version | Size(KB) | Date Added | Download |
| --- | --- | --- | --- | --- |
| Linux Console (kernel 4.5) | 1.3 | | 2018-03-15 | |
| Linux Xfce Desktop (kernel 4.1.33-ltsi-altera) | 1.0 | | 2017-04-11 | |
| Linux LXDE Desktop (kernel 4.5) | 1.1 | | 2017-04-10 | |
BSP(Board Support Package) for Intel FPGA SDK OpenCL 16.1
| Title | Version | Size(KB) | Date Added | Download |
| --- | --- | --- | --- | --- |
| DE10-Nano OpenCL BSP (.zip) | 1.0 | | 2017-05-05 | |
| DE10-Nano OpenCL BSP (.tar.gz) | 1.0 | | 2017-05-05 | |
| DE10-Nano OpenCL User Manual | 1.0 | 2171 | 2017-05-04 | |
BSP(Board Support Package) for Intel FPGA SDK OpenCL 18.1
| Title | Version | Size(KB) | Date Added | Download |
| --- | --- | --- | --- | --- |
| DE10-Nano OpenCL User Manual | 2.0 | 2409 | 2019-01-03 | |
| DE10-Nano OpenCL BSP (.tar.gz) | 1.0 | | 2019-01-02 | |
| DE10-Nano OpenCL BSP (.zip) | 1.0 | | 2019-01-02 | |
3D-Printer-Case
| Title | Version | Size(KB) | Date Added | Download |
| --- | --- | --- | --- | --- |
| DE10_Nano_Case | | 117 | 2017-05-05 | |